ADOPTABLE PETS INFORMATION
We have some great animals ready for their "Forever Home"!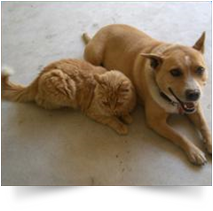 Are you interested in providing a forever home to one of our adoptable animals? This is the place for you! If you haven't yet, please review our before you adopt information to make sure you're ready for such a commitment.


Our goal is assist and guide, both people and pets, in developing happy, healthy, and successful long term relationships. Therefore please be patient during the application process as we are selective about matching the right animals to the right homes.
You must be 21 years old or older to adopt from our agency.
You must submit a complete application and be approved before you can take an animal home.
There is a minimum 24 hour waiting period for all adoption approval.
All adoption fees must be paid in full before the animal leaves our shelter.
We cannot hold or adopt pets over the phone.
All adoptions must be done in person at the FAHS shelter office.
Our web site is updated frequently, however it is possible that some pets may no longer be available.
Do not make any final decisions regarding adopting a particular animal until you have met face to face top.

ADOPTION PROCESS
Make sure you and your family are fully prepared to provide a "Forever Home" for your new pet.
Fully complete our online adoption application here, indicating the name or ID number of the animal you are interested in.
We will contact you as soon as we can regarding the final decision on your application.
If you don't hear from us in a few days, please call!
If you are approved, please arrange to bring your family (pets welcome!) to meet the potential new family member.
Once you have made your final decision, be prepared to pay any and all fees and take your new family member home! top

FEES
Adoption fees are determined on an individual basis for each animal. Quite a bargain, considering your pet will have had all necessary vaccinations and been spayed or neutered prior to adoption! Please contact us with any questions you may have regarding the adoption fee.

All dogs start their vaccines, are tested for heartworm disease (dogs 6 months and older), wormed, treated for fleas, and are spayed or neutered prior to adoption.

All cats start their vaccines, are tested for feline leukemia, wormed, treated for fleas, and are spayed or neutered prior to adoption.
ADOPTION FAQ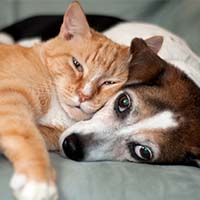 ADOPTION INFO
---
ADOPTION FEES
Dogs $175
Puppies under 5 months $200

Cats $70
Kittens under 5 months $110